Meet the Doctors

Charlotte, NC
Since 1955 when Dr. Zach Hull first converted his home into an office, our practice has provided dental care to the residents of Myers Park, Eastover, Uptown and surrounding areas. Dr. Hull practiced in this same building 27 years until his retirement in 1982 when Dr. Perry Sowell took over the practice. In 2003, Dr. Moczek joined the practice, working here until his retirement in 2015. He was succeeded by Dr. Banks Allen. Dr. Allen joins Dr. Sowell in continuing to provide outstanding care to all our patients. Here at Myers Park Dental Partners, we've had the privilege of treating multiple generations of the same family.
We believe continuity of providers is an important factor in quality dental care, enabling us to put our patients' needs first and to fully understand the history of their
dental treatments
. We have had the same loyal staff for over 10 years. We want patients to be comfortable and feel like valued members of our dental family.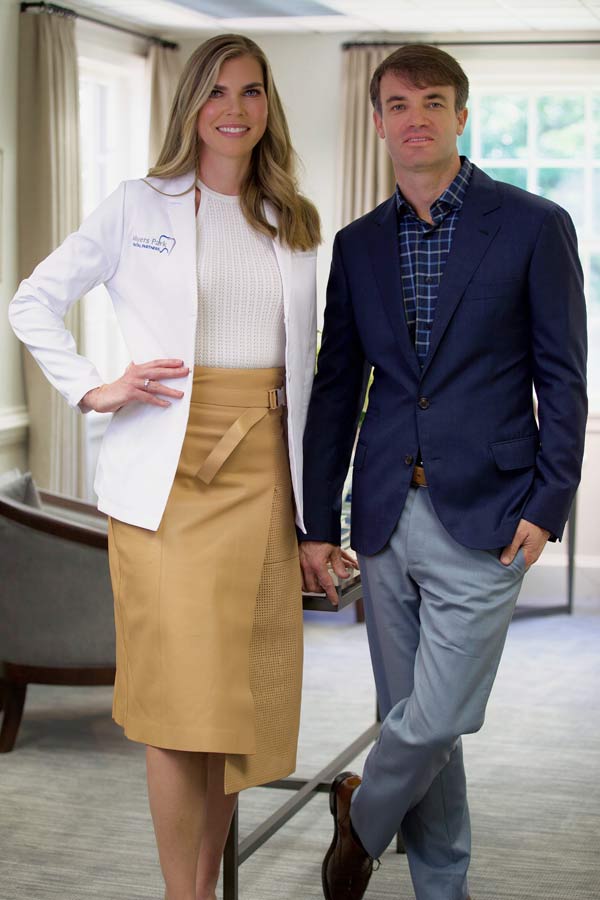 Dr. Banks Allen and Dr. Crystal Allen
---
Dr. Banks Allen

Growing up in South Charlotte, Dr. Banks Allen was a patient of Dr. Sowell. In 2015, he returned to Dr. Sowell's office, this time as a partner.

Dr. Allen attended Hampden-Sydney College, graduating in 2003 with a Bachelor of Science in biology. Following college, he earned an MS in Biochemistry at the Medical College of Virginia. While at MCV, Dr. Allen conducted research and completed a thesis in the field of oral cancer. Following his time in Virginia, he attended East Carolina University for his dental school education. Dr. Allen was part of the inaugural class to receive a Doctorate of Dental Medicine. After dental school, he returned home to Charlotte and joined Myers Park Dental Partners.

While in dental school, Dr. Allen gained experience in all aspects of the dental field. As a senior dental student, he spent his final year in rural areas of North Carolina practicing dentistry in communities where patients previously had no access to dental care. He enjoys helping his patients achieve dental health and become fully informed of their options. He strives to provide quality and highly aesthetic results in a comfortable environment.

Dr. Allen is committed to learning the latest technologies and advancements in dentistry. He completed a year-long implant residency, which makes him well versed to discuss implant options with his patients. He also utilizes CEREC technology, which allows him to complete same-day crowns for patients.

Dr. Allen is happy to be back home in Charlotte. When he is not practicing dentistry he enjoys hiking, golfing, and working out. He is married and has a son, Tradd, and a dog, Walter.


---
Dr. Crystal Allen

Dr. Crystal Allen graduated from Virginia Commonwealth University Medical College of Virginia. Prior to dental school Dr. Crystal received her master degree in Biochemistry from Virginia Commonwealth University, and her bachelor degree in Chemistry from the University of Virginia.

While in dental school Dr. Crystal received the A.D. Williams Student Research Grant, awarded to a student who wishes to conduct laboratory research. Her research focused on the spread of head and neck cancer. She also received the Robert M. Saunders scholarship, which is awarded each year to a dental student with exceptional academic credentials.

Dr. Crystal is passionate about helping people. She wants to use her skills to help you achieve your dental desires. She is dedicated to continuing her education and always providing quality care to her patients. While in practice she has taken many CE courses including, Invisalign®, cosmetic dentistry, sleep dentistry and implants.